<![if !IE]> <![endif]>

AIDUS Co., Ltd.
27, Hoenamuro 12-gil, Yongsan-gu 404 ho
04346 Seoul
Korea, Republic of
List of product entries
This exhibitor shows the following products and commodity groups:

Company & products
Products
Joystick type 3D mouse and game controller 'NEXTICK'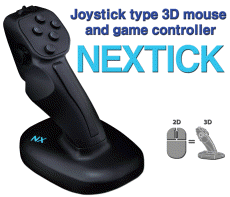 Nextick is a 3D mouse that can replace the existing 2D mouse, and is also a wireless game controller (PC, VR, mobile,..).
It can be used in various ways by setting the macro shortcut button function.
It is a game controller that shares the product's SDK for free, can control Bluetooth vibrations, and can aim and shoot.
Zombie Halloween game, a sample version of game content that is linked to the product, is provided free of charge.