<![if !IE]> <![endif]>

Listan Gmbh / be quiet!
Wilhelm-Bergner-Str. 11c
21509 Glinde
Germany
List of product entries
This exhibitor shows the following products and commodity groups:

Company & products
Company & products
Company & products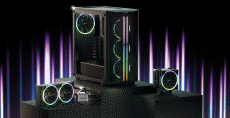 Unternehmensportrait
be quiet!
be quiet! ist ein deutscher Premium-Markenhersteller von Netzteilen, Gehäusen, Wasser- und Luftkühlern sowie Lüftern für Desktop-PCs. Mit 20 Jahren Erfahrung in dem Bereich leise Hardware für Computer bietet be quiet! sowohl nahezu unhörbare als auch extrem performante Produkte mit Qualität auf Weltklasse-Niveau.
Leise Premium-Qualität vom Spezialisten
Der Name "be quiet!" ist Programm: 20 Jahre Erfahrung in der Produktentwicklung machen es möglich, dass be quiet! Produkte zu den leisesten auf dem Markt gehören.
Großen Einfluss auf die Lautstärke der Produkte haben die verbauten Lüfter. Daher kommen im be quiet! Sortiment größtenteils die eigens entwickelten be quiet! Lüfter wie etwa die Silent Wings zum Einsatz, die über viele geräuschreduzierende Features verfügen. Hierzu gehören etwa spezielle Lager, leise Motoren, ein optimierter Luftstrom und eine Anti-Vibrations-Entkopplung. Dank dieser Lüfter erzielen die Produkte das beste Verhältnis aus Kühlleistung und einem nahezu unhörbaren Betrieb.
Wer sich für be quiet! entscheidet, kauft bewährte Premium-Qualität und den für be quiet! Produkte typisch leisen Betrieb.
Developed in Germany
Seit Gründung im Jahr 2001 werden alle be quiet! Produkte in Deutschland konzipiert und entworfen. Die Entwicklung findet im engen Austausch mit den Standorten in Asien statt. Die finale Qualitätskontrolle geschieht ebenfalls im Hauptsitz nahe Hamburg. So stellt be quiet! sicher, dass jedes Produkt unseren hohen Standards gerecht wird.
Dieses erfolgreiche Konzept wird nicht nur regelmäßig durch Auszeichnungen der European Hardware Association sowie renommierter Fachmagazine und Onlineportale bestätigt, sondern auch von der wachsenden Community sowie Kundschaft in aller Welt.
be quiet! ist eine Marke der Listan GmbH | www.listan.com