<![if !IE]> <![endif]>

Reaktor Innovations Ltd
Yliopistonkatu 4
00100 Helsinki
Finland
List of product entries
This exhibitor shows the following products and commodity groups:

Company & products
Company & products
Company & products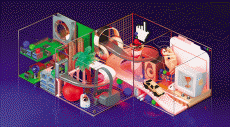 Company portrait
Reaktor is a creative technology partner for forward-thinking organisations. We're known for delivering high quality with high velocity, from premium software development to brand experiences and digital transformations.
We have a proven track record in helping gaming companies rise above the competition, with expertise in cutting-edge software and technology built to scale, user-centered UI/UX design, and business strategy. Teaming up with us allows both the game studio and the gaming community to focus on the one thing that matters the most – the play.
That's why companies like Supercell, Epic Games and Rovio have trusted us to build important digital solutions for them. In addition to some of the largest gaming companies in the world, we also work with clients like Adidas, HBO and Netflix.